Fully Auto Corrugated Box Flap Pasting Machine (Folder Gluer Machine)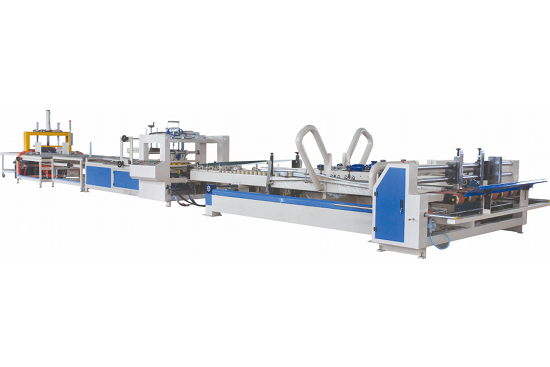 Technical Specifications
Fully automatic corrugated box flap pasting machine is designed to finish the box making process easily and fastly.
Size available: 2000mm / 2200mm / 2400mm / 2600mm / 2800mm.
Machine has variable speed Dyna speed motor with suction feed to adjust to the quality of the boards.
Folding, glueing, pasting, aligning, countting and delivery are the the functions of this machine.
Easy to operate and easy to maintain.
| | | | |
| --- | --- | --- | --- |
| Model | 2000mm | 2400mm | 2800mm |
| Max. length of corrugated board | 1000 x 2000mm | 1000 x 2400mm | 1000 x 2800mm |
| Max. Mechanical Speed | 200 Boxes/minute | 200 Boxes/minute | 200 Boxes/minute |
| Min. length of corrugated board | 300 x 680mm | 300 x 800mm | 300 x 800mm |
| Total Power | 11.5 Kw | 11.5 Kw | 11.5 Kw |
| Floor Space | 2400 x 13500mm | 2800 x 15500mm | 3000 x 16000mm |
< Back