STM Fully Auto Flute Lamination Machine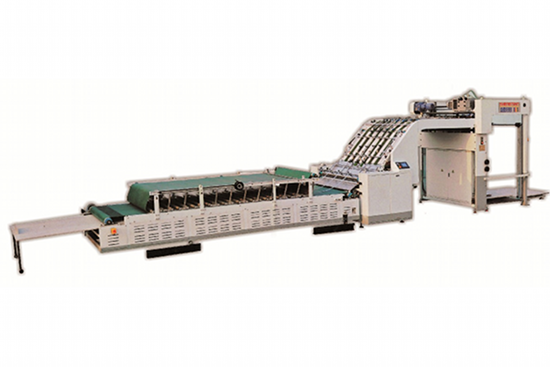 Technical Specifications
STM Fully Automatic Flute Laminator adopts unique Pressing Spring front lay registration design with PLC control which ensures high lamination process and less break down.
Balance tested rollers, tight assembling technique and the timing belt driven mechanism make the machine run with high precision, high speed and less noise.
The bottom sheet can be A, B, C, D, E and F Flute corrugated 2 Ply sheet. It is fed automatically by vacuum suction type.
The top paper / board may be 200 - 450 GSMs Kraft paper / Duplex board which is stream fed.
The core designed Rubber Roller together with Knurled Steel Roller enhances the evenness of gluing, strength of stickiness as well as lowering the production cost.
Automatic recirculating of glue supply.
Top and bottom sheet detectors are installed to stop the machine while no sheets are detected either on top or on bottom.
All materials are inspected according to ISO-9001 standards.
The electrical and electronic equipments are branded and are as per European Quality standards (CE certified).
User friendly machine - easy for operation and easy for maintenance.
| | | | | |
| --- | --- | --- | --- | --- |
| Model | STM-1100 | STM-1300 | STM-1450 | STM-1650C |
| Max Size | 1300 x 1300mm | 1300 x 1300mm | 1450 x 1450mm | 1650 x 1650mm |
| Min Size | 400 x 400mm | 400 x 400mm | 400 x 400mm | 400 x 400mm |
| Max Speed | 6000 Sheets/hour | 6000 Sheets/hour | 6000 Sheets/hour | 6000 Sheets/hour |
| Total Power | 13.5 Kw | 13.5 Kw | 13.5 Kw | 15 Kw |
| Total Weight | 6,500 Kg | 6,500 Kg | 7,000 Kg | 7,800 kg |
| Dimension | 12800x2300x2655mm | 12800x2300x2655mm | 12800x2400x2655mm | 16000x2700x2700mm |
< Back